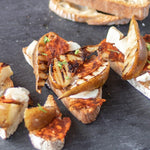 Tartine de Peras, Queso de Cabray Chorizo Ibérico
Ingredients:
Slices of crusty bread
Ripe pears, thinly sliced
Goat cheese
Ibérico chorizo, thinly sliced
Honey, for drizzling
Fresh thyme leaves, for garnish
Salt and black pepper, to taste
Instructions:
Preheat your oven to a medium-high broil setting.
Arrange the bread slices on a baking sheet and lightly toast them under the broiler until they turn golden brown on both sides. Keep an eye on them to prevent burning.
Remove the toasted bread slices from the oven and let them cool slightly.
Spread a generous amount of goat cheese onto each slice of bread.
Layer the thinly sliced pears on top of the goat cheese.
Add a few slices of Ibérico chorizo on top of the pears.
Season with a pinch of salt and black pepper.
Place the prepared tartines back under the broiler for a couple of minutes, just until the cheese starts to melt and the chorizo warms through. Be cautious not to overcook the delicate ingredients.
Remove the tartines from the oven and drizzle them with honey.
Garnish with fresh thyme leaves for added aroma and flavor.
Serve the Tartine de Peras, Queso de Cabra y Chorizo Ibérico as an appetizer, brunch item, or light lunch.
Enjoy the combination of sweet pears, tangy goat cheese, and savory Ibérico chorizo in this delicious open-faced sandwich!