An Interview with Juliette Eav (@fit_chef_ ju)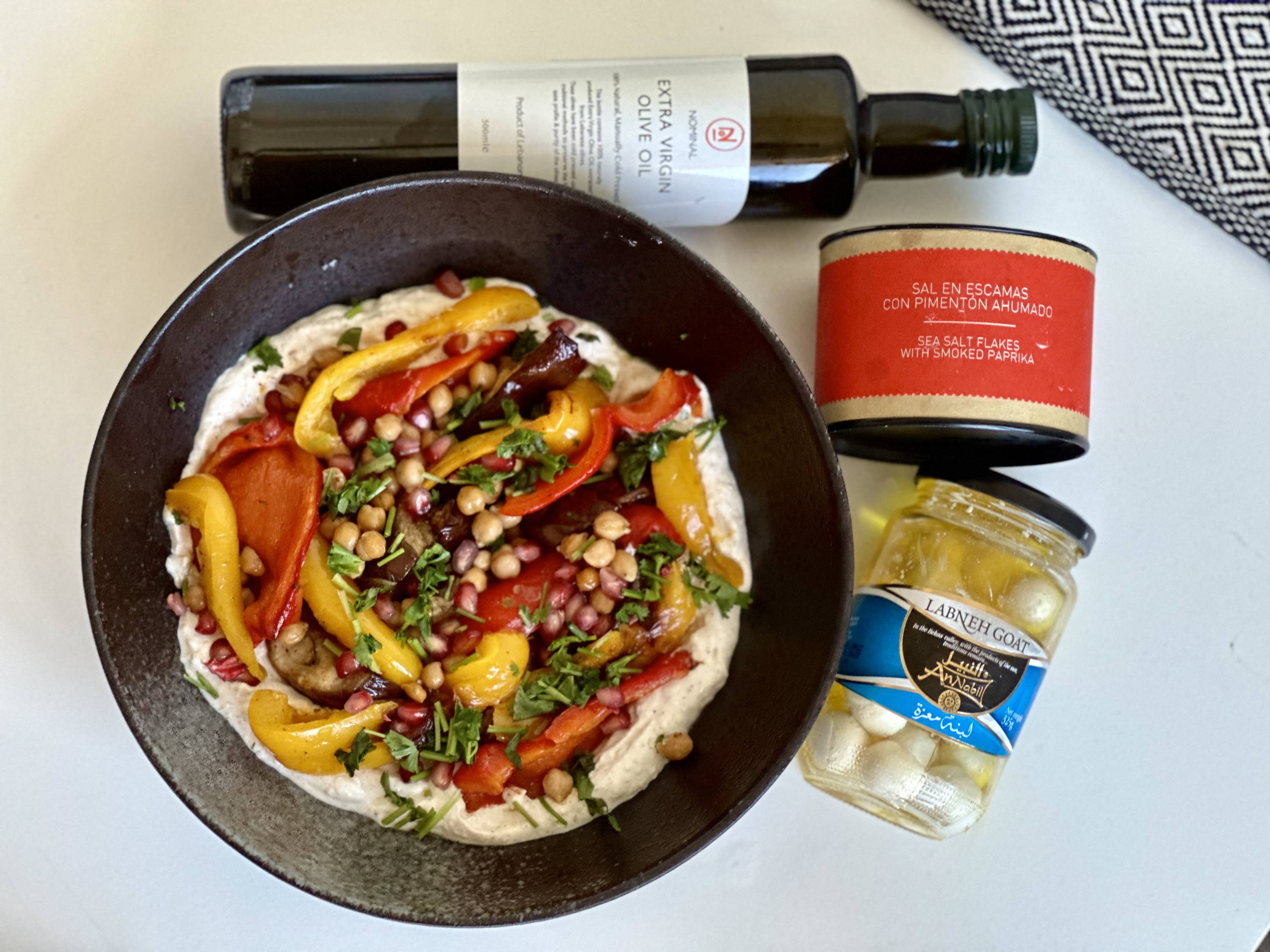 Juliette's Roasted veggies Salad with Mediterranean flavours
Meet Juliette, a 36-year-old French-born Chinese who has been working in Hong Kong for 10 years in digital marketing. She is a health and fitness enthusiast who loves cooking. Juliette embarked on her fitness journey two years ago and has since gained expertise in designing macro-friendly recipes. She is now a certified nutritional coach, dedicated to empowering individuals with knowledge, skills, and support on their path to embracing a healthier version of themselves. Juliette promotes a sustainable, diverse, and enjoyable approach to eating. Follow Juliette on her Instagram page, fit_chef_ju, where she showcases her amazing work about healthy recipes, nutrition, fitness, and cooking.
Let's see what she prepares for us.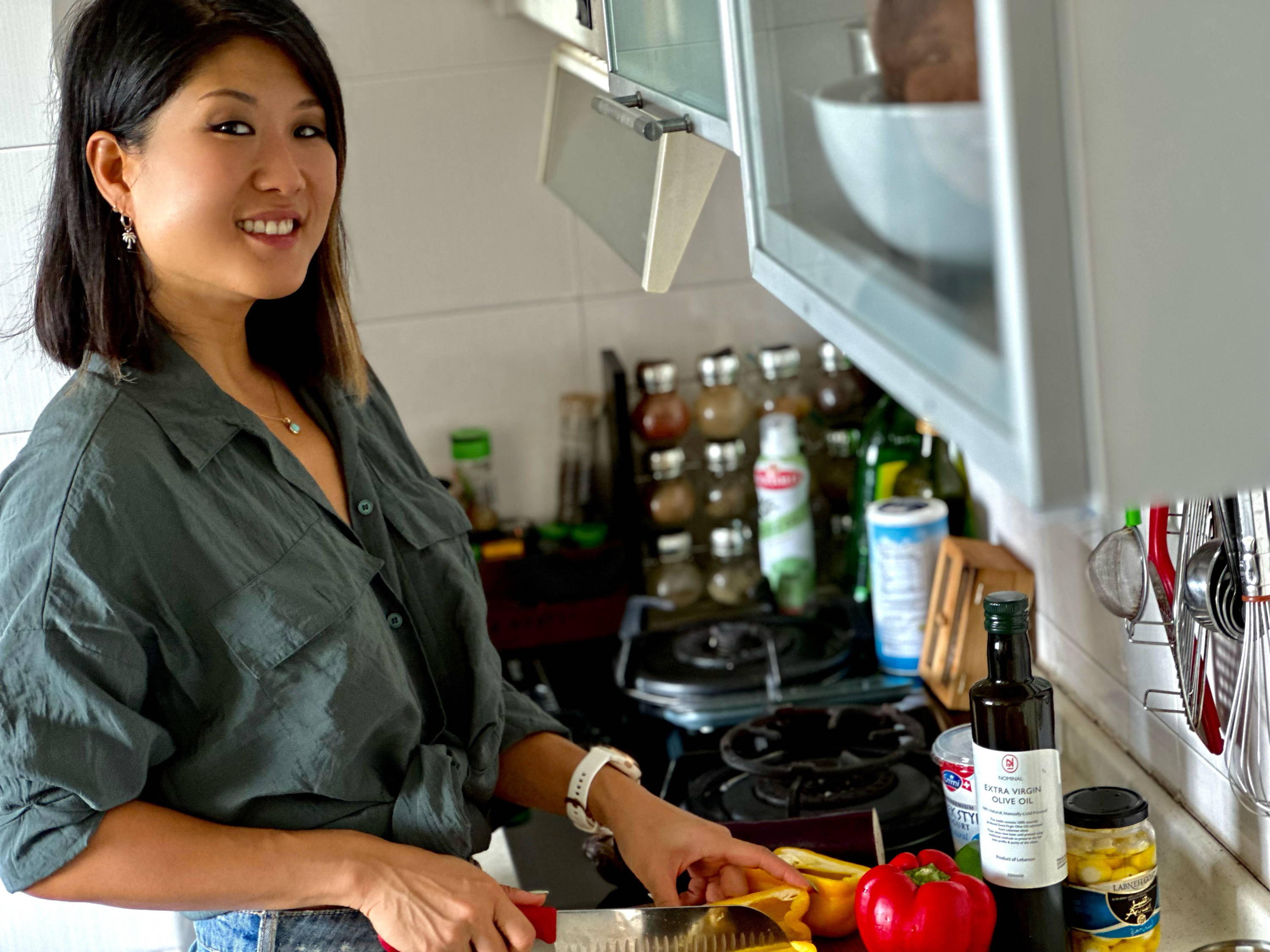 What's Juliette's comfort food? Why?

Comfort food is food that reminds me of my childhood, that my mother would cook, and that I would not find in any restaurants. An example is stuffed bitter melon soup, which I also know for a fact that a lot of people don't like and wouldn't like.
What's your favourite cuisine. Why?
My favourite cuisine is Vietnamese cuisine because there are such a variety of dishes. I love the mix of savoury, sweet, and tangy flavours, as well as the freshness of Vietnamese herbs. Maybe also because I was exposed a lot to Vietnamese food when I was young. My mother used to be a cook in a Vietnamese restaurant in Paris, and she used to cook a lot of Vietnamese dishes at home too.
Which products did you choose from Nominal for cooking this summer? Why?
I chose the goat labneh, olive oil and smoked paprika. I've actually never had goat labneh so I gave it a try. Even though it's healthy fats, it's important to portion it, but even in small quantities, it can really elevate a dish as it has a very distinct and strong flavour.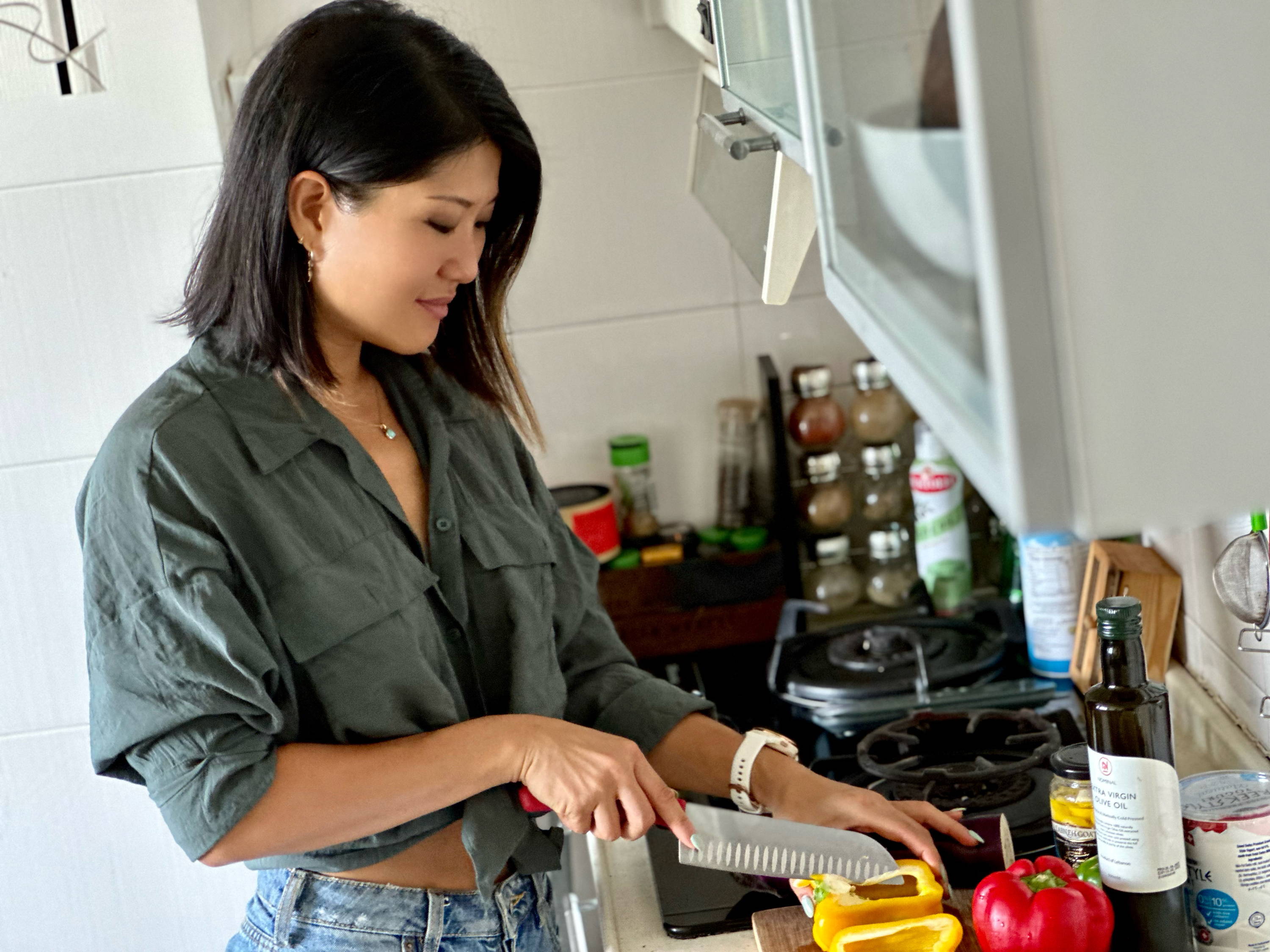 What are your go-to healthy cooking ingredients? Why?

Simply whole foods. For optimal health and longevity, you should strive to eat a balanced and varied diet that consists of 80% whole foods (fruits, vegetables, whole grains, lean proteins, and healthy fats) to provide your body with the nutrients your body needs to function properly and stay healthy.
Which recipe did you bring us today and what's special about it?
I am bringing a summer salad with Mediterranean flavours. I also designed a homemade pizza recipe with Nominal's artichokes and olives. What's special is that they are macro-friendly for weight loss as they are relatively low calories (under 600 kcal) and high in protein (40g protein). You would think that the pizza is much higher in calories than the salad, but they actually have pretty much the same nutritional values. I purposely made them vegetarian as well, so that more people can enjoy them.
Roasted Veggies Summer Salad

This Mediterranean salad is a feast for the senses, with a variety of textures and flavors. The roasted eggplants and bell peppers are tender and smoky, while the crispy chickpeas provide a satisfying crunch. The garlicky yogurt base mixed with tangy goat labneh creates a creamy and flavorful dressing. Finally, the fresh herbs and pomegranate arils add a pop of color, as well as a burst of sweet and tart flavor. This salad is also packed with nutrients, fiber, and protein, making it a great option for anyone looking to eat healthy and feel satisfied. Enjoy it as a main dish or side dish.
Ingredients for 1 serving:

1 yellow bell pepper, 200g


1/3 canned chickpeas, 80g


1 tbsp of olive oil , 10g


(if you don't have you can add cumin and paprika)


200g fat-free high protein Greek yogurt


30g goat labneh from @nominal.hk (or feta cheese)


1 head of garlic, roasted


For toppings: pomegrenate and fresh cilantro (or mint)

Cut the eggplants in chunks, the bell peppers in halves and put them in a baking tray.


Add the chickpeas, olive oil, 2 tbsp of zaatar , and massage with your hands to ensure everything is well coated


Cut off the top of the garlic bulb,exposing the top of the cloves. Wrap it in aluminium foil and drizzle a bit of olive oil over the garlic making sure it gets into the crevices between the cloves. Add salt and pepper. Make sure that the foil is tightly sealed before placing it in the baking tray with the vegetables.


Bake in the oven for 30-40min at 190C or until vegetables are nicely roasted, and garlic soft golden.


Prepare the yogurt base by mixing the yogurt with labneh goat, the cloves of the roasted garlic, 1 tbsp of zaatar and salt. I used the smoked paprika salt flakes from @nominal.hk to elevate the base 👌🏽


Spread the yogurt at the bottom of a plate, add in the roasted veggies (remove skin of bell peppers) and chickpeas.


Top with a bit of pomegranate, fresh coriander and indulge !!